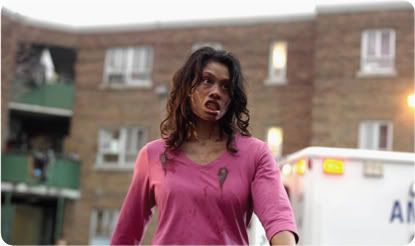 Over at fol.lowfoc.us, Amy Robinson has some thoughts about George Romero's latest zombie movie.
What's most striking to me about the film is how it trades the old idea of zombies as stumbling metaphors for an obsessive look at the human response to apocalypse. Involvement vs. Aloofness, Criticism vs. Action, etc. Examining these responses has always been part of Romero's agenda, but in Diary to stay in communication and share stories of your immediate surroundings becomes a vital function of survival. As "mainstream" news of the zombies is woefully recut as propaganda, online user-generated content helps create a jigsaw puzzle of fact. This is social networking at its most useful!
Not since Night of the Living Dead has Romero's social commentary involved the zombies so little. Here they're rendered almost irrelevant. This time around the threat could be any threat — a tornado, a hurricane, a civil war, alien invasion. It just so happens that zombies are more entertaining.